Artificial Intelligence/Machine Learning Grants 2023
AI/ML MDS Grants will provide up to $600,000 in support over three years ($200K per year) to advance promising MDS research. The deadline for submission of Letters of Intent is on or before, January 31, 2023. Funding will commence on, or before September 1, 2023. Please review the Request for Letters of Intent as the submisssion requirements for this program differ from our other grant programs.
Detailed information on this programs and instructions on how to apply are available from our web site evansmds.org on the Funding Information page.
Welcome
The mission of The National MDS Study (ClinicalTrials.gov Identifier: NCT02775383) is to build a resource that scientists can use to learn more about a group of rare bone marrow diseases called myelodysplastic syndromes (MDS). The National MDS Study will enable scientists to conduct research that will improve the way MDS is diagnosed and how it is treated. The study will also enable scientists, patients, and their families to better understand what to expect when a patient is diagnosed with MDS. The National MDS Study is sponsored by the National Heart, Lung, and Blood Institute (NHLBI) in collaboration with the National Cancer Institute (NCI).
Explore Study Resources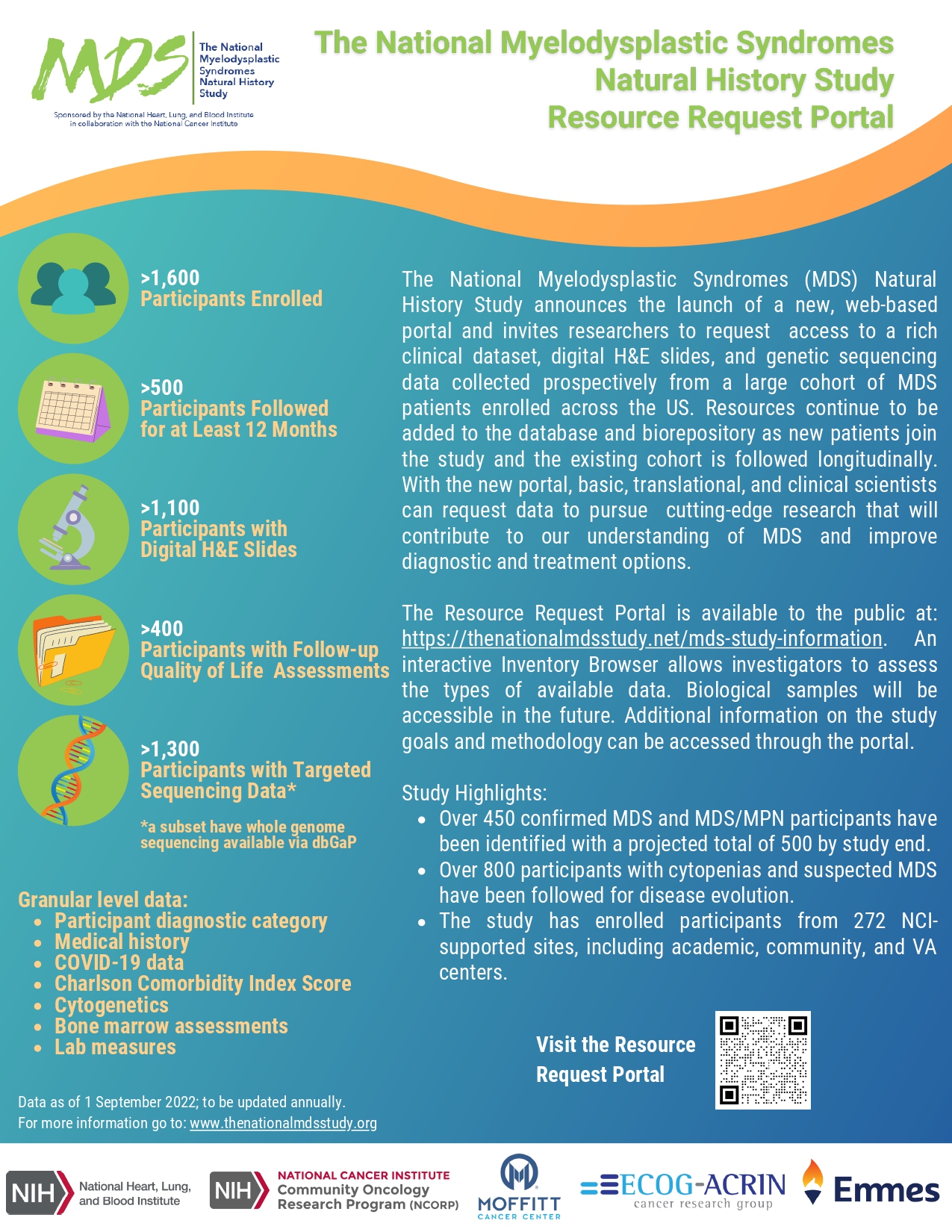 Interactive Inventory Browser
The MDS Interactive Inventory Browser is a dynamic publicly accessible database query tool that allows one to identify cohorts of interest from our study and perform research feasibility analysis based on the availability of clinical, lab, and genetic data. If you do not have a login, a "Registration Form" needs to be completed and submitted.  Once an account has been approved an email will be sent with initial log in instructions.